High Clarity
With 3,000 lumens1 of brightness and full HD resolution, you no longer need to worry about image clarity, even in bright daylight settings.

Bigger Is Better
Supersize and immerse yourself in your favourite movies and games with this Full HD projector, that's capable of creating an impressive 762cm (300-inch) display, almost 5 times of a 80-inch TV.

A Smart Projector Powered by Android TV™2
The CO-FH02 can function as a smart projector, thanks to its Chromecast built-in™ features and bundled Android TV™2 Dongle. Streaming your favourite video content has never been easier!

Hassle-free Portability
Lightweight and compact design enables users to conveniently carry and install the projector in different environments3.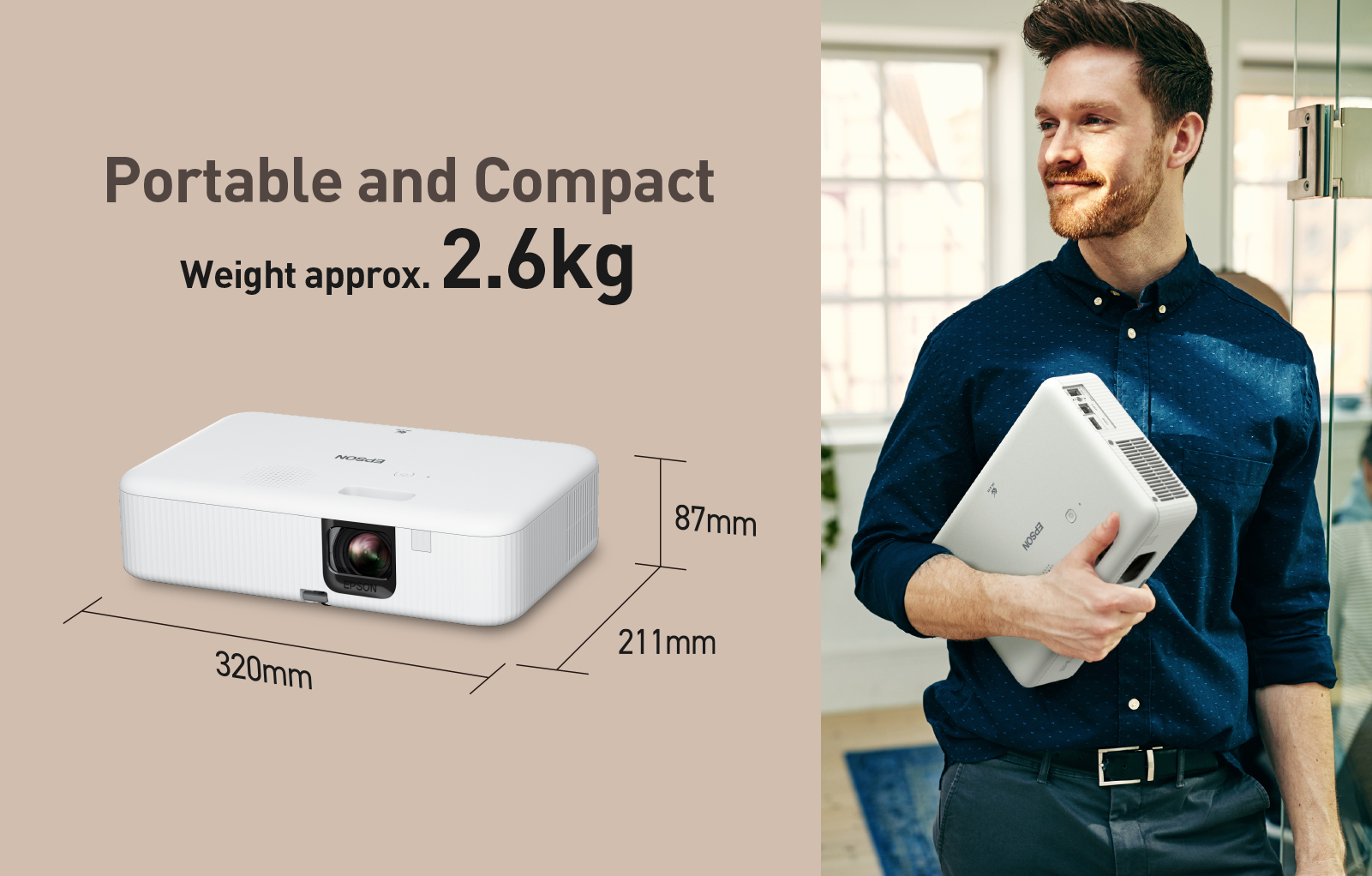 LCD:
---
Native Resolution:Full-HDSize:0.62" (1.574 cm)
Projection Technology:
---
Projection Technology:RGB liquid crystal shutter projection system
Screen Size (Projected Distance):
---
Standard Size:60" screen 1.58mZoom : Wide:34" to 391" [0.89 to 10.40m] (Zoom: Wide)Zoom : Tele:26" to 290" [0.91 to 10.41m] (Zoom: Tele)
Brightness:
---
White Light Output (Normal / Eco):3,000 lm / 2,000 lmColour Light Output:3,000 lm
Contrast Ratio:
---
Contrast Ratio:16,000:1
Geometric Correction:
---
Vertical/Horizontal Keystone:±30° / ±30°Auto Keystone:Yes (Vertical)Horizontal Slide Keystone Correction:NAQuick Corner:Yes
Connectivity:
---
USB Interface:USB Type A: 1 (For 2A Power Supply, Firmware Update and Copy OSD Settings)
USB Type B: 1 (For Firmware Update and Copy OSD Settings)Wireless:Smart Media PlayerVideo Input:HDMI: 1 (HDCP 1.4)
Direct Power On/Off:
---
Direct Power On/Off:Yes / Yes
Power Consumption: 270W (Normal ) / 214W (Eco)
Projection Lens:
---
Type:No optical Zoom (Manual) / Focus (Manual)Focal Length:16.4mmZoom Ratio:1.0 – 1.35 (Digital Zoom)F-number:1.44Throw Ratio Range:1.19 – 1.61
Internal Speaker(s):
---
Sound Output:5W Monaural (with enclosure)
Lightsource:
---
Type:Lamp (Fixed), 188 W UHELife (Normal/Long):6,000 / 12,000 hours (Normal / Eco)
Dimension (Not including protruding parts):
---
Open (D x W x H):211 x 320 x 82 mmWeight:Approx. 2.6 Kg
Related